OUR FIRST LITTER OF IRISH BABIES HAVE ARRIVED:

We are pleased to announce that 9 beautiful bundles have been born to Gillbrae Flowers For Midnight  "Poppy" (Black)
                by Frozen Semen collected from  Ir Ch Tomanipoint Celtic Knight JW, CW "Rory" (Brown).
  
           We have 3 Boys: 1 x Black and White, I x Black and 1 x Brown. 6 Girls : 1 x Brown and 5 x Black.
                                       We are thrilled to get such a good number of puppies from AI.

                                                             Exciting times ahead at Gillbrae.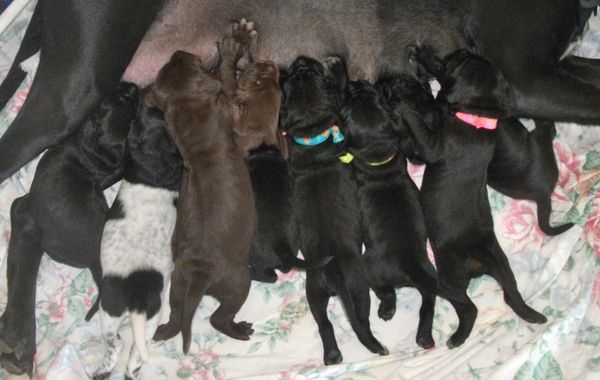 THE IRISH CONNECTION
Love of all things Irish took me to Ireland for the second time in 2014. Whilst there I planned to have a look at a lovely liver bitch Karlivar Dusky Rose (Lucy), who was doing a lot of winning and had an uncanny likeness to my Ch Gillbrae Empire Rose. On checking her pedigree I could see why as she had many of the famous Hillanhi dogs in her ancestry.  Empire Rose's father was Ch Hillanhi Ardmore (Imp.Uk) so the family resemblence was understandable.
Much to my delight  Lucy, who was mated to a beautiful Liver White boy, Sh Ch Barlyarch Blue Riband of Tomanipoint, was to whelp puppies whilst I was there and I got the pleasure to be present for much of their early development, thanks to the wonderful hospitality of Tom and Annie Mervyn of Tomanipoint.
Needless to say I fell in love the the "brown" boy and we called him "Rory" Tomanipoint Celtic Knight. He will be joining Gillbrae later in 2015 bringing with him a wealth of excellent  English bloodlines to enhance the already successful Gillbrae lines.
We are one of the very few kennels in this country that has stayed true to English/European lines.